Where to build football stadiums? Game-theoretic analysis of the spatial distribution of the problem
The 6th Public Research Seminar of the Center MSSE on the theme "Where to build football stadiums? Game-theoretic analysis of the spatial distribution of the problem" by Associate Researcher of the MSSE A. Savvateev, Professor, New Economic School (Moscow)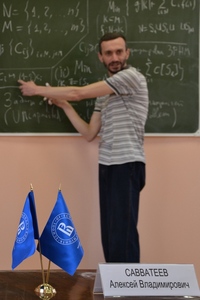 A. Savvateev

The 6th Public Research Seminar of the Center MSSE on the theme "Where to build football stadiums? Game-theoretic analysis of the spatial distribution of the problem" by Associate Researcher of the MSSE A. Savvateev, Professor, New Economic School (Moscow).

The task of spatial distribution - is the problem of how to meet the demand for distributed, balancing total transportation costs and the costs of construction items meet the demand. Simply put: there is a city whose residents want to play football. How many build stadiums, where are their places? This problem was studied during the 20th century from the perspective of optimal deployment plan.
However, the new century has given birth to new challenges. What if the people "naughty" and can arbitrarily change the location to meet the demand? And if they can even be collected into groups so that, neglecting the rest of the city, build your own stadium? How to fend off all such threats in the planning of the optimal placement? Overview of the obtained results in this area will be presented in the report.
Seminar was held at: Room 212, b.3, 10th Line VO.
More about past MSSE' seminars...
Photo report about the event: